Transform Everyday Brilliance Into Disaster Resilience!
Prepare for the unexpected and participate in a full range of free disaster preparedness training classes, ranging from personal preparedness, agency response, and long-term recovery.
Eden I&R Offers Disaster Preparedness Training Classes For All
Interactive
Adaptable
Empowering
Positive
Relevant
Diverse
Easy
And Fun

Training Classes Offered
Designed to meet the preparedness needs of staff, volunteers, and clients of nonprofits and community-based organizations, choose the training classes that are right for your group.
Build a SKIP (Safety Kept in Place) kit with everyday household items
Make a Disaster Preparedness Plan for staff, volunteers, and clients
Create an Agency Emergency Plan
Learn about Incident Command System (ICS) and disaster response
Incorporate social media and technology in plans and responses
Empower parents and practitioners with preparedness tips for specific populations: children, seniors, caregivers, persons living with disabilities, etc.
Schedule Yours Today! Please Contact
Lars Eric Holm
Disaster Preparedness Coordinator
510-727-9516
leholm@edenir.org
Download the PDF Disaster Preparedness Flyer
Made possible from generous support by WALTER & ELISE HAAS FUND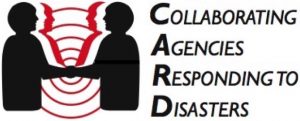 Proudly presenting curriculum developed by CARD – Collaborating Agencies Responding to Disasters