Specialized Publications
Eden I&R publishes specialized human services brochures, foldable pocket guides, and resource booklets to meet targeted information and referral needs. These directories can be customized according to specific types of human services, particular groups or populations, and/or distinct geographic regions within Alameda County.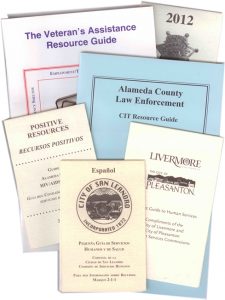 Examples of Past Pocket Guides
"The Veteran's Assistance Resource Guide"
"Positive Resources – Guide of Alameda County HIV/AIDS Services"
"Pocket Guide to Humans Services – City of Dublin, City of Livermore, City of Pleasanton: Human Services Commissions"
"Alameda County Sherriff's Office – Office of Homeland Security and Emergency Services"
More Information
Rates vary depending on the size and complexity of the requested job. Call 510-537-2710 for more information.
Searchable Portal On Your Website
If interested in an online searchable portal of resource information available directly on your website, please click here to see information about our Internet Data Integration Services.