ALAMEDA COUNTY COMMUNITY PREPAREDNESS EVENT!

You are invited to attend The Alameda County Community Preparedness Event.
This free event is on Saturday, September 8, 2018, from 9 am to 4 pm and will be held at the 3 Crosses Church, 20600 John Drive, Castro Valley.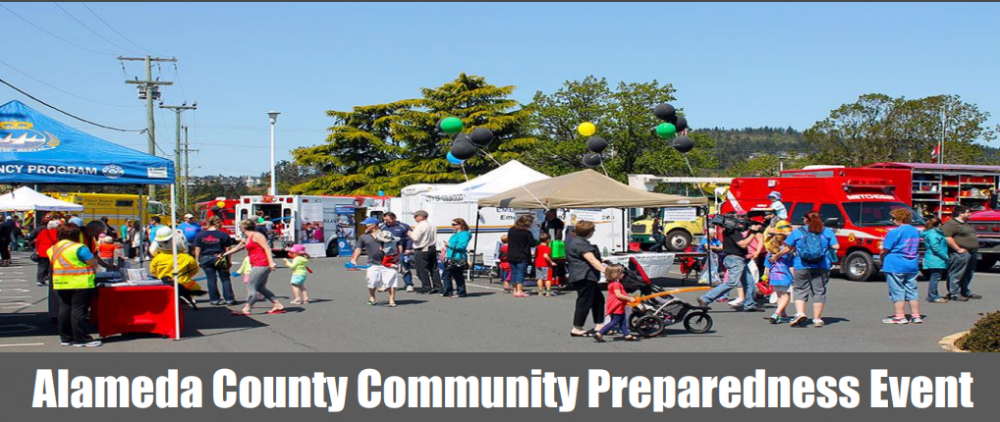 There will be training classes throughout the day.

TRAINING CLASSES:
SKIP: Safety Kept in Place – Learn how to make a simple personal safety kit from 10-11 am AND 1-2 pm
Camping Out at Home – Emergency Preparedness for Seniors & Persons with Disabilities from 11 am-12 pm AND 2-3 pm

INTERACTIVE EXHIBITS:
"Big Shaker"- Largest Earthquake Simulator (8.0 magnitude) in the World
Smoke Safety Trailer – Alameda County Fire Safety & Evacuation Drill

MEET WITH: Alameda County Public Works, Environmental Health, Public Health & Animal Services, Mosquito Abatement, Vector Control Agencies, Sheriff's Office, Fire Department, PG&E, RED CROSS, SALVATION ARMY, ACSO SAR – Search & Rescue K9, ACSO COMM TEAM – HAM Radio Operators, Volunteer Groups, EDEN I&R/211, CRIL – Community Resources for Independent Living, VOAD – Volunteer Organizations Active in Disasters, Earthquake Country Alliance, Ready America, and many more….
It is extremely important to be prepared for an emergency situation so please bring your family and friends and be prepared together!!
Click here to see the event flyer.
Hope to see you there!